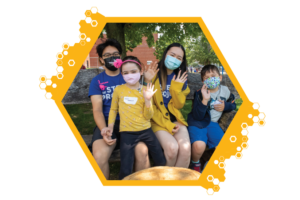 We had so much fun during our Kids Inc. session at Richland Academy! Campers learned all about inventing, designing and woodworking. We created a winter wonderland in August, where campers made their own ice cream. Additionally, in week two we had Superhero Day where everyone dressed up as their favourite superhero and trained to be superheroes! We had a blast designing and building cars to withstand a crash and campers even got to create their own drawbots! 
FRESHKIDS
The Freshkids learned all about inventing this session! They built easels, marble gameboys, superhero slingshots and their own tool boxes. They learned how to hammer a nail into a block of wood to make nail art. Freshkids came to camp excited to create and ready to learn about topics such as optical illusions, buoyancy and what it takes to be an inventor. They had a blast on sprinkler day and played with DIY sidewalk paint!
SPROCKETS
The Sprockets put on their inventing hats and came up with innovative solutions to different problems. They built a marble Gameboy, designed a 3D printed airplane and made their own foam gliders. The Sprockets had so much fun learning how to use a hammer and hand saws to create derby cars and nail art. They had so much fun spending time outside and creating cardboard boats to float their counsellor!
Check Out Our Session Three Highlights Video!