.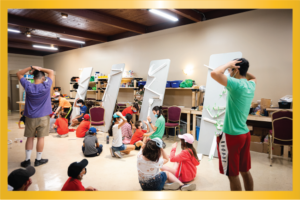 As we crossed the halfway mark of Summer 2021, every camper became an inventor in Session 3: Dragon's Den! A diverse range of creativity was on display, as campers created everything from egg drop contraptions and Rube Goldberg machines to functional boats to hold – or sink – their counsellors (a crowd favourite)! To top off these fun-filled two weeks, we hosted our first-ever STEAM Project talent show, as well as a carnival with camper-designed games!
SOPHOMORES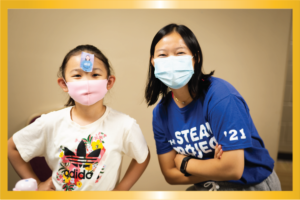 The Sophomores used their imaginations at every turn this session, designing eco-friendly takeout packaging, prototyping helmets to protect a watermelon and pitching their original inventions to our "dragons". They had a great time exploring geometric art, by building spirograph drawing machines and making pendulum paintings!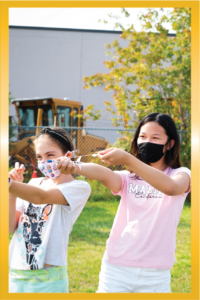 JUNIORS
The Juniors had the opportunity to create their own board games this session, and they were so passionate about their games that we added an extra activity block for them to refine and finish their creations! They built cars powered by balloons, sails and mousetraps, made sling sockets, and experimented with macrame techniques to make their own plant hangers!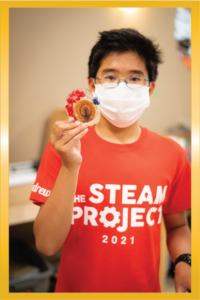 SENIORS
We had the pleasure of hosting Alison Garcia this session, a woodworker and small business owner (@alisonartisanals on Instagram), to lead the Seniors in an epoxy resin activity! Epoxy was another first for us at The STEAM Project, and it was incredible seeing the variety of colours, textures, materials and visions in the campers' projects. The Seniors also learned how to use sewing machines, creating custom pillows and other items! It was amazing to see this group truly challenge themselves in designing their carnival games, making four escape rooms for the other cabins to play.
CITs
The Session 3 & 4 CITs started this session – and they are double the size of our first group! From day 1, they were hard at work with leadership training, team-building games, designing their personal projects and practicing for their talent show performance. They wasted no time in becoming leaders at camp, helping the counsellors run open activity stations at the end of the day. We are so excited to see this group continue to grow and make memories together throughout the rest of the summer!
Check Out Our Session Three Highlights Video!