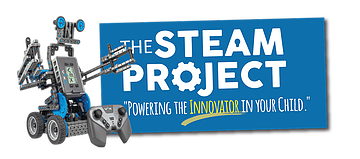 Want to learn about Robotics? Want to take part in competitions?
We are running Robotics programs beginning Thursday April 19th!
Programs:
VEX 101 – Intro to VEX Robotics. Get your child started in the leading and fastest growing robotics program for youth.
Thursdays 5:00 pm to 6:00 pm
Thursdays 6:30 pm to 7:30 pm
VEX Team: Preparing youth to compete in VEX Robotics competitions. Must have completed VEX 101 or have VEX Robotics experience.
Thursdays 6:30 pm to 7:30 pm
Additional Details
Where: Richmond Hill Curling Club
Program Duration: 8 Weeks
Dates: Every Thursday night, beginning April 19 Cost: $240 + Tax
These programs are suitable for grades 3 through 8.
Register here:
Register for Robotics
*Each session is limited to 9 participants per program. Enroll today!
Hope to see you there,
The Steam Project Team!