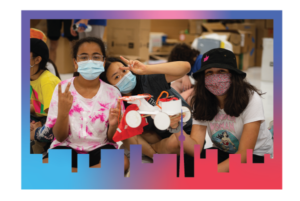 Campers put on their engineering hard hats with a session full of design challenges, bridge building, hydraulic judo bots, woodworking and our final project: creating cities in the sky based on biomes of the Earth! We had so much fun capping off the first week by sending their "egg cart crashers" down a giant ramp in the hangar, and it was fantastic to see all of our age groups, from Sophomores to Seniors, explore vector design and make laser cut keychains. Finally, everyone had so much fun making polymer clay pieces with Sarah Giffin of Viv Jewelry!
SOPHOMORES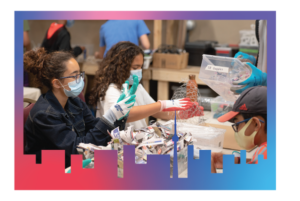 The Sophomores started the session by going back in time, building medieval castles complete with functioning drawbridges and a cardboard ship! Before long, they jumped into the future, creating whimsical automatas and competing in a plane design challenge. Their creative design skills really shone in a zero-waste design exercise, where they explored sustainability topics by inventing toy accessories using packaging materials.
JUNIORS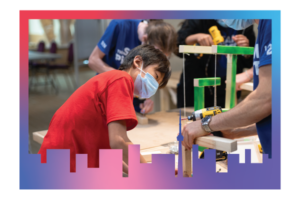 Junior chicken! Finger lickin'! The Juniors dove right into the hands-on nature of this session, creating model houses complete with floor plans and passive housing elements, exploring the structural engineering concept of "tensegrity" by building floating tables in the workshop, and designing motorized cars with their cabinmates during Arts and Active. They excelled at our design challenges, and had a blast trying to build the strongest house of cards!
SENIORS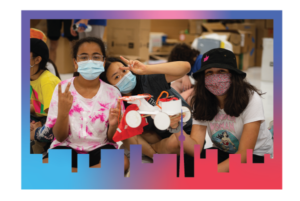 The Seniors got into the Olympic spirit with a nail-biting chess and checkers tournament! Who will win? As of the time of this writing, it's anyone's game. As our oldest unit, the capabilities of the Seniors continue to blow us away. Their creativity shone through in the thoughtful, artistic design of their desert-themed city in the sky, and their engineering aptitude was on display when they built their egg cart crashers with an amazing variety of shock absorbers. The Seniors also explored electricity generation and soldering, making small generators that power a series of LEDs!
CITs
As they entered the second half of their 4-week program, our first ever group of CITs were adopted into the Sophomore cabins and excelled at taking on this new responsibility! It was heartwarming to see how fast they took initiative in their cabins, helping campers with projects and assisting counselors with their duties. Watching the CITs work on their personal projects has been so exciting, and we can't wait to see their final results after hours of designing, woodworking, electronics and coding! But their aptitude doesn't stop there – the CITs even created and ran a camp-wide game on Superhero day!
Check Out Our Session Two Highlights Video!