FAREWELL SESSION 2, WE'LL MISS YOU!
We're deep into the summer season, and we're having more fun than ever at camp! Concluding July with both Sessions 1 and 2 with lifelong memories, friendships, and cool projects– and with more to come in August!
Before we dive right into the long weekend, let's revisit the last two weeks and see what our campers got up to during "How Stuff Works"!
As per usual, we'll be covering the STEAM camps at all locations, and showing you what the last two weeks included for all our campers! Let's hear it for our campers who really challenged themselves this session and enhanced their technical abilities further.
Read below to hear from our Assistant Directors, CITs and campers as they take you through the session (and quite literally hear what they have to say to our parents through posted voice notes!)
Click the links below to find the recap for your camp location:
Richmond Hill Curling Club
Fletcher's Fields
Richland Academy
Norbert – (Program Director at Curling Club)
"How Stuff Works" really goes into detail about the simple mechanics of different structures and machinery and simplifying it to a level for the campers. Watching them learn that and use what they've learned to build projects has been great. 
It's also a lot of building up their creative thinking, for example the campers built a lot of fun stuff like Foosball Tables and Hydraulic Bridges and even some medieval stuff like Drawbridges and Battering Rams!
This is honestly the most hands-on session, so that includes a lot of building and using tools, which is why there's a lot of emphasis on woodworking specifically this session. Throughout Session 2, and especially the first week of "How Stuff Works", most of the kids (especially junior and seniors) actually got the hang of woodworking!
They learned the basics and safety of woodworking, and used all of the tools, saws and carving utensils as well. After that they really honed on their skills and even made some sculpted Wooden Animal Figurines which was really cool.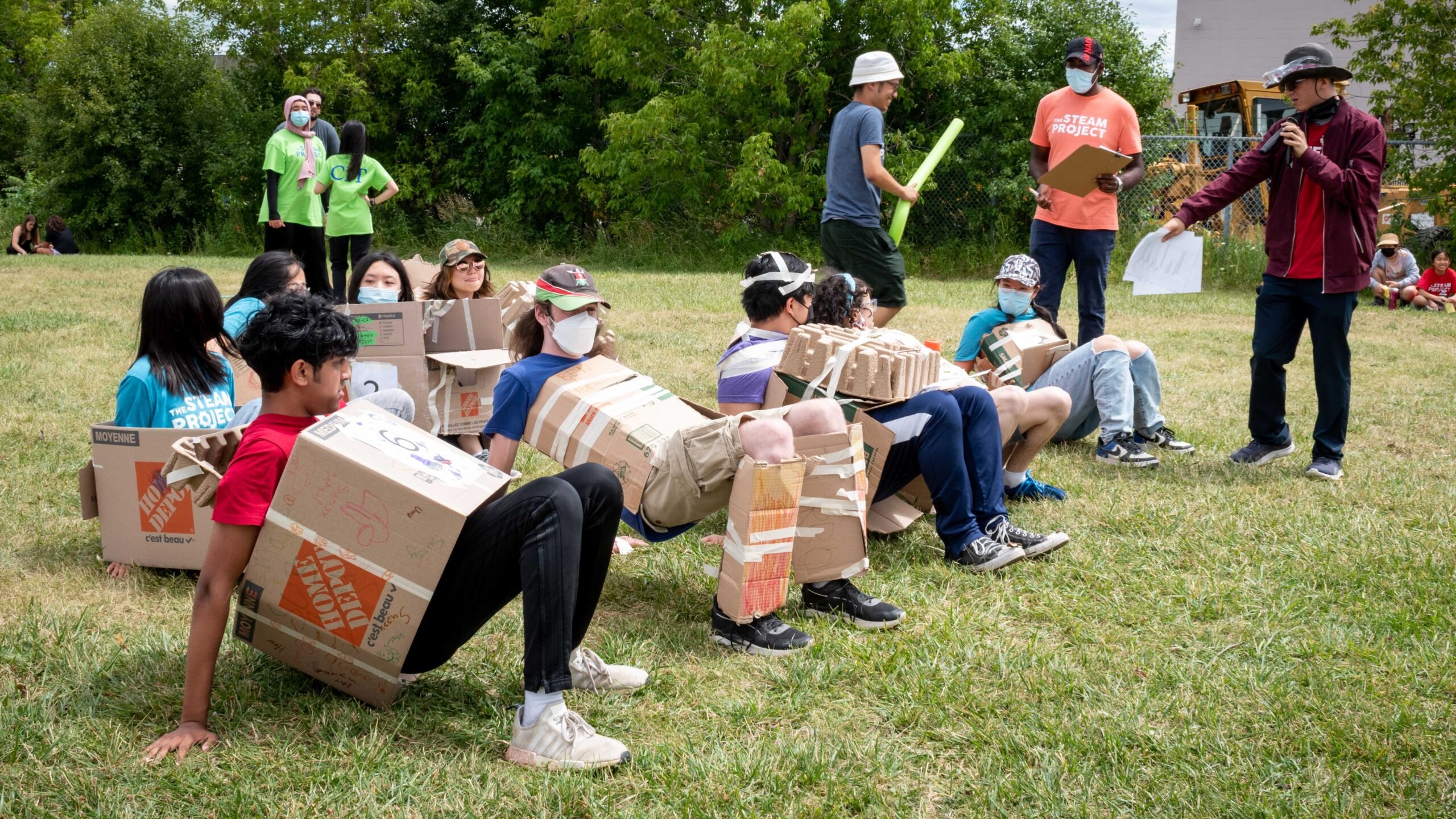 Mario Kart was definitely my favourite camp-wide moment this session, easy. 
One of our instructors designed Mario Kart and initially it was planned to be a small activity where each kid could design their own car and race them around… but I realized it would be a perfect addition to our camp-wide activity!
Each cabin selected one of their counsellors to be a driver and all the cabins then had thirty minutes to design a Kart for that counsellor to race in. All the counsellors got to compete, and it was a super fun race around the field, with the first to three laps to win! 
Everyone would cheer on the counsellors as they crab walked around and there were even classic Mario power-ups along the track! There were those iconic blue shells, but my favourite was "Bullet Bill" where it takes the person in last place to first. So to do that we had two people dressed in black who picked up the counsellor and raced them to the front!
–
Spirit Days this session were incredible!
Last week we had "Crazy Hair/Hat Day", so everyone wore really funny or colourful hats, crazily styled their hair, or even dyed it! We ended up having a fashion walkthrough so everyone could showcase their look and that was really fun to see. The participation for that was amazing – it was kind of like walking into a Dr. Seuss book!
This week we had "When I Grow Up" so everyone was dressing up as the professions they wanted to go into or found exciting. It was really cool to see, especially the variety amongst the campers and staff – there was a big theme of scientists and engineers, but also a lot of artists too!
There were also cool and funny costumes like fairies, and I dressed up as Vector from Despicable Me… I guess I want to be a supervillain when I grow up!
We recently had Morley Kert come in– he was the previous program director at The STEAM Project! He's a big maker, engineer and leather worker, so he showed everyone how to make leather stamps and keychains with 3D printed objects so that was really cool for all age groups.
The intuition of our campers definitely surprised me the most this session! The speed in which they build a project and solve problems is much faster than I was expecting so it was crazy to see.
We had so many build challenges where we gave campers a kit with no instructions and told them to refer to a provided example and they managed to complete the builds in half the time we gave them! It was really cool to see.  
My name is Molly O'Neill, and I am studying behavioural neuroscience at UBC. I am also the CIT Coordinator here at the Richmond Hill Curling Club!  
The past two weeks for the CITs have been really focused on their cabin placements. Last week they spent 5 days each with their own cabin, so they had a chance to establish relationships with their campers and shadow some counsellors which was a really new and exciting opportunity for them. 
This week they continued working on that– I actually have one CIT who's actually shadowing an instructor, so he's been doing a lot of work in woodshop! The rest of the CITs get to switch cabins so they can meet new campers and work with other counsellors so they can get a taste of different leadership styles. 
–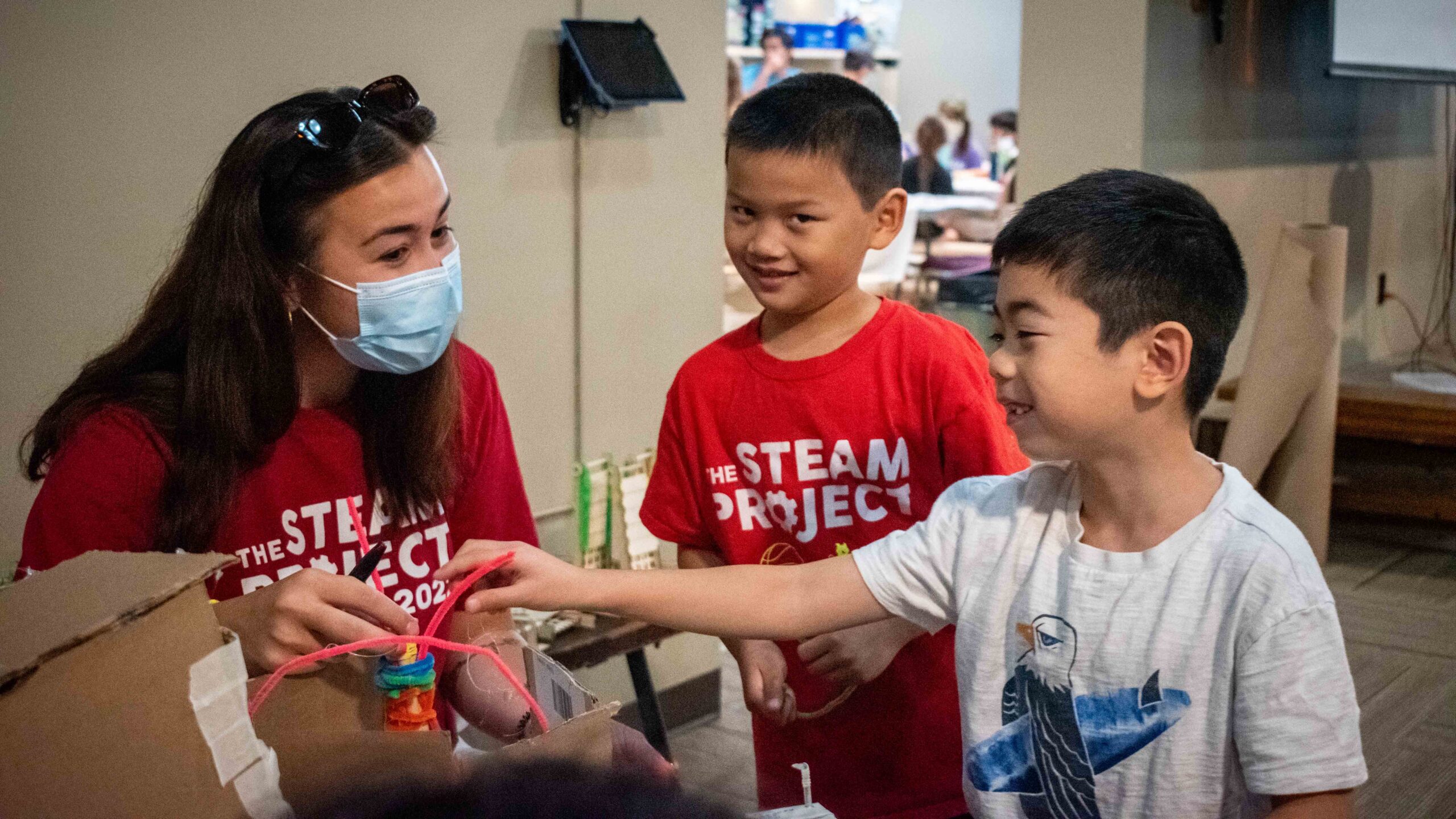 I started off with a lot of the basic communication skills, and the CITs went through a couple public speaking workshops. We also did some more technical activities– we learned how to print vinyl, 3D print, some laser cutting here and there, electronics, and more!
A lot of the CITs were super interested in the "How to Work With Different Age Groups" lessons, so that was all about learning about all of the psychological states of each of the age groups of kids we have. That was really interesting for them and just learning about what techniques/tips and tricks you can use with certain age groups, and watching them actually apply them within their cabin groups has been really great. I think they've learned quite a bit from that.
So between the technical and behavioural skills it's been a pretty full month of learning and fun!
–
If I had to give some advice to any future CITs, I'd say that it's really critical for CITs to come in with an open mind and a positive attitude. There's a lot of new experiences that these kids haven't faced before, even being at camp it's a very different experience from being a camper vs a CIT.
Something I've been really trying to do this past month is getting the CITs up in front of the whole camp and singing songs and participating in flagpole. That's something that campers don't really get to do often so as a CIT you have that platform a bit more and we should take advantage of that. 
So just really just putting yourself out there and feeling comfortable with yourself is the best thing you can bring to camp. 
CIT – Raquel (14 years old):
I was a camper for two years, and this year I've returned as a CIT. Molly's been pretty patient with us as a teacher, and you can also tell that she really cares for us! So, because of her I've learned how to be more patient with children, and I've also learned how to get them to listen to you as a leader.
[On their Personal Project]:
I decided to make a bass guitar and it went great! When I first started, I had a few ideas and wasn't sure what to choose, so I started listing my hobbies and one of them was playing the bass guitar and that was how I made my choice. I also wanted to make my project more interactive, so making a bass guitar was perfect for that. 
CIT – Atiksh (15 years old):
I've been coming here for around 6 years as a camper. This year I'm a CIT and the program is really nice, and I'm really enjoying it! Working with the kids has been cool and it's been a great learning experience.
The first two weeks are learning what to do and case studies, and the second two weeks are actually doing it and applying what you learned. So, when you're doing it you have to be mindful of everything and everybody and you have to make sure that you take away/learn from it because those lessons aren't just for CITs… it can be applied to a lot of other things!
[On their Personal Project]:
My family was going on vacation, and our indoor potted plants were going to die if we didn't water them. So I was thinking, "If you could detect how dry or moist the soil is can you water it based on that?" and decided to make that for my personal project. 
Final Message To Parents:
SESSION 2 HIGHLIGHTS – RHCC
With "How Stuff Works", we really wanted to emphasize the technical aspects of everyday things. 
 This session there were a lot of complex builds and woodworking projects specifically! On the other hand, there were also a lot of technical and electrical projects– so coding, circuitry and even learning to use Arduinos.
There's been a ton of more technical projects and I think a lot of campers have been able to gain some insight on what the term engineering and what we really mean by "How Stuff Works".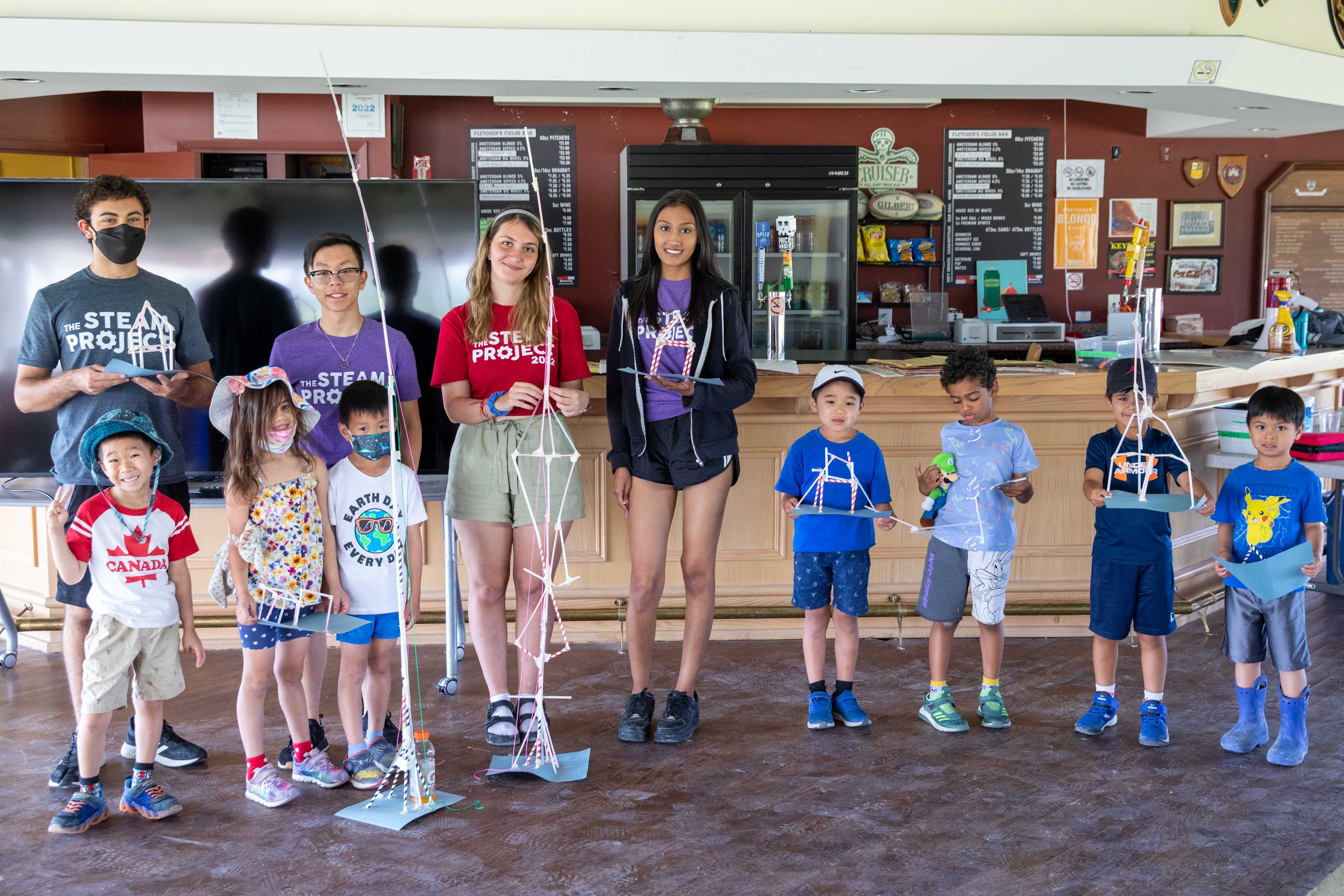 For the younger kids, builds and design challenges have always been great. For our youngest FreshKids we had a Paper Straw Tower competition, and one of the campers was able to make a tower twice his height! It actually stood up really well and you could just see that there's some knowledge of structural integrity in these kids and it's crazy to think that a six-year-old child has that amazing ability!
For Sprockets and Sophomores, they were able to do some laser-cut builds and explore projects with that. One super successful project for them was the Cotton Ball Launcher that they made, as well as the Water Dispense/Filter, which was a super fun two-parter project.  
There was a specific project that was definitely an overall favourite, called the Servo Swordfight. So by using the Arduino campers were able to program a sword into fighting another sword by swinging. It brought in all aspects the campers had learned up to that point, so it had 3D printing, laser cuts and some coding from the Arduino. 
It's projects like these that remind everyone that it's not offered anywhere else and you can really see why this camp is so special and unique. I think that the campers enjoyed it so much and so did the counsellors because it was one of those projects that wasn't age-restricted, and I think it was overall super successful!
Camper – Faris (FreshKids):
"My favourite project is the thunderclouds. I put pipe cleaners and cotton balls to make a cloud and use wood to hold it– and there's a light that turns it on so it's actually like lightning! I also really like my instructors and counsellors because they keep people safe."
Camper – Brian (FreshKids): 
"My favourite activity is the thundercloud light because it's for nighttime and has so many colours! I like my instructors and counsellors because they're fun and I'm friends with my counsellors. I also like dressing up for spirit day."
One thing I'd say to campers is that if you come to camp with an open mind and be ready to learn, but also ready to fail, that's the best mentality to approach camp with.
The reason why is because not everything is going to go as planned, and you're not always going to have the prettiest or most successful project. That alone can be frustrating… but it doesn't have to be if you don't make it!
If you come to camp ready with an open mind and knowing that there'll be times where things won't go completely your way, you'll end up seeing that there's so much more to gain out of camp than just the projects that you take home.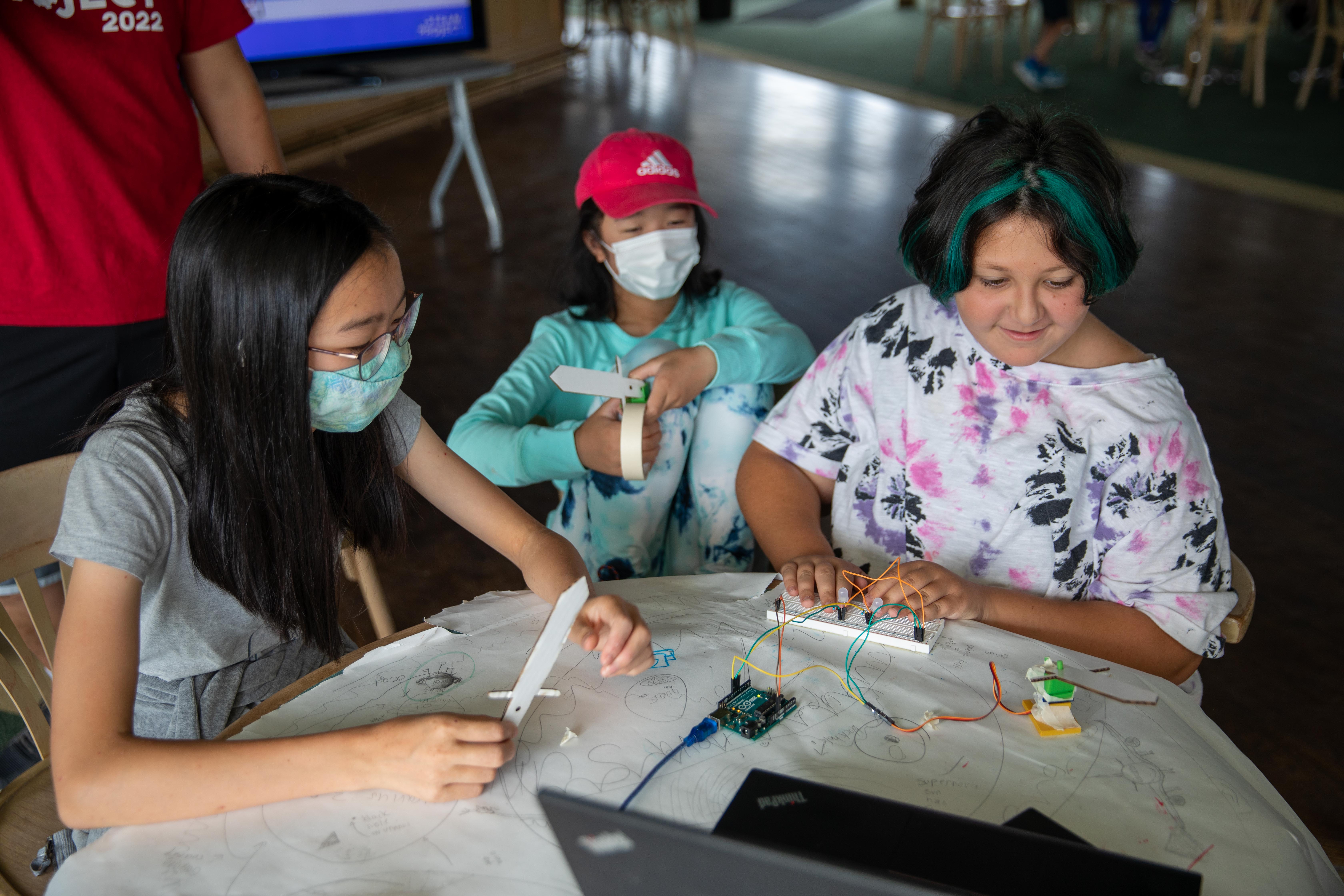 This session is a great introduction to engineering for kids and so I was really looking forward to seeing which areas kids thrive in. It's been a lot of fun seeing how much campers enjoy certain projects and seeing how all the campers get into the building zone. 
I think it's also awesome because there's a lot more opportunity for leadership this session, so I really like watching our campers take on leadership roles with the projects we have this session. 
Final Message To Parents:
SESSION 2 HIGHLIGHTS – Fletchers Fields
Anna (Assistant Director at Richland)
Jenna (Head Counsellor at Richland Academy)
Anna:
I was excited to see some of the kids who are returning campers get some more confidence in learning all these skills and seeing them be more comfortable at camp as well.
Jenna:
Campers have definitely had the opportunity to make new friends, and they're so much more comfortable this week than last week. They're really opening up, exploring and trying new things, which is so amazing. Honestly just seeing how well everyone gets along as well has been amazing, between campers and staff alike!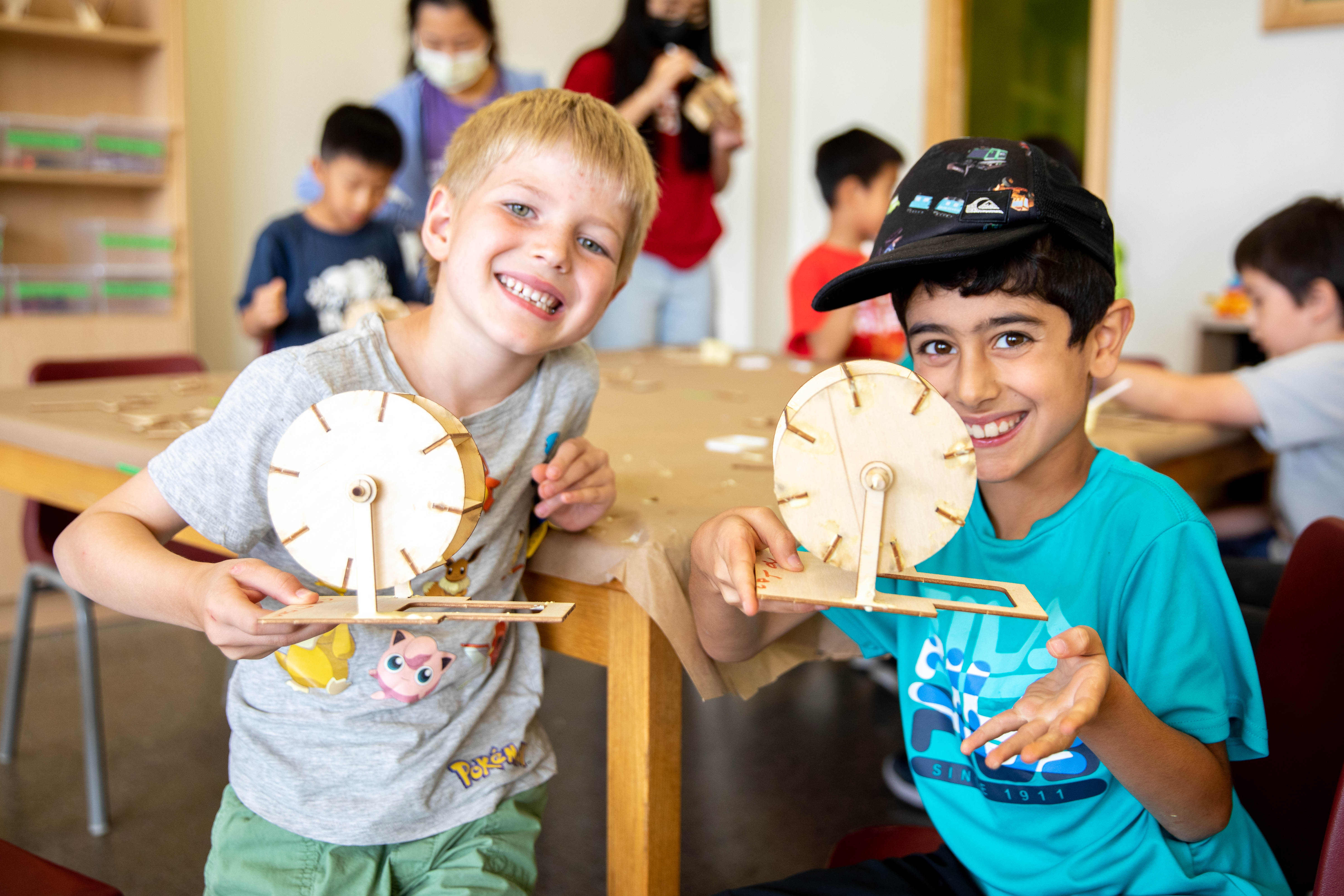 Anna:
Last week we focused on the technical aspects of everyday life in "How Stuff Works". Everything from the human body, to structures, earth science and even motion and light were introduced!
FreshKids made Shaving Foam Rainclouds, which would show concentrated droplets in clouds that eventually fall down as rain. They also made Prisms out of plastic sheets and used flashlights to see how light scatters through a prism! More creatively, they also made a projector using a convex lens and some little shadow puppets for that projector. 
Sprockets built Newspaper Towers in a design challenge, and they got to use their woodworking skills to make some Windmills as well. From that they learned about how we can convert wind energy into rotational kinetic energy!
Sprockets made their own shadow puppet theatre, and they also learned/practiced some cross stitching and learned a little bit about the fashion industry! They also got to learn about how muscles work with their own Muscle Machine prototypes. They learned how their heart works with stethoscopes, and how lungs work with their own Balloon Lungs.
 Anna: 
Everybody also got a visit from the paramedics! Our campers learned what to do in an emergency and what kind of care paramedics provide. The paramedics were a lot of fun, so that was probably my favourite part that session.
They also got to have Jenna, who's studying as a nurse, give a presentation on what nurses do and how they treat patients.
Jenna:
We've had paramedics come in as guest speakers and give a general introduction on what paramedics do. They went through all their equipment and also the importance of calling 911 and when you should call 911, so it was a very good learning moment for the campers.  
I also did a presentation on nursing, what nurses do, and how the human body works! 
Camper – Daniel (7 1/2 years old):
"The multi beads are my favourite part of camp right now– we just put beads on a plate and melt them with an iron so they can stick together. I made a watermelon with the beads, and I've also made a watermelon with a 3D pen before. I also like the 3D printing and the dash robots plus the physical activities."
Camper – Arya (5 3/4 years old): 
"My favourite part about summer camp is the engineering and building cool stuff. My favourite thing to build is lightning clouds. I also like my instructors and counsellors because I get to make cool shirts and stuff and they help me with that and they're nice and funny to me."
Final Message To Parents:
SESSION 2 HIGHLIGHTS – Richland Academy
***
*Responses have been edited for length, clarity and/or brevity*
Thanks for joining us the session! We hope our campers have loved the last two weeks as much as we did, and can't wait for more!
Want to keep up with us in real-time? Make sure to follow us on social media for daily camp photos, reels, and more!
We'll be back soon with Session 3, "Da Vinci's Workshop"!
–       The STEAM Project Family
If you have any questions or concerns, don't hesitate to contact us at 289-819-0178 or office@thesteamproject.ca.