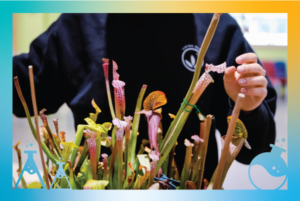 We had so much fun during our Snap Crackle Pop session at Richland Academy! Campers learned all about plants, animals, chemistry and biology! We had so much fun on animal day in week one and underwater day where campers made their own aquariums in week two. We were so excited to have Dennis from Living Glass visit and teach us all about carnivorous plants! We also learned lots about dinosaurs, fossils and animal superpowers with our guest Norbert. Campers got to see a megalodon tooth, which is three times bigger than that of a great white shark! 
FRESHKIDS
The Freshkids explored lots of cool science this session! They grew their own plants, made climbing monkeys, lily pads and created their own borax crystals. Campers made giant bubbles, slime and lava lamps as they learned about chemistry. They made animal automatas and learned about different animal tracks. They had a blast on sprinkler day and on their nature walk where they travelled through the Saigeon Trail.

SPROCKETS
The Sprockets learned about everything that snaps, crackles and pops! Campers did lots of experiments from making a pop bottle explode to testing how leak-proof plastic bags really are. They even became paleontologists for a day! They learned about fossils, created their own dinosaurs and got to take home some fossils. They also learned about prosthetics and muscles and built an articulated hand model. They grew plants and 3D designed and printed labels for their pots. They had lots of fun on sprinkler day and relaxed in their PJs on the last day of camp! 
MORE ON LIVING GLASS
Living Glass is a company that redefines the houseplant by creating products that empower individuals to grow exotic plants around the house. 
This summer of 2021, Living Glass launched an interactive presentation to the campers at The Steam Project. Campers of all ages were given a keynote tailored towards their education level and had the amazing opportunity to observe real carnivorous plants up-close. Campers were able to see exceptionally rare plants, grown in both traditional (pot & soil) methods and Living Glass (tissue culture) methods. 
To find out more about Living Glass visit their website at livingglasslabs.com.
Check out our Session Four Highlights Video!