With Week 1 of camp a success, we wanted to celebrate by acknowledging the backbones of camp—our instructors! We know that between pick up and drop off, there's only so much time you have to interact and find out more about our staff—other than hearing how incredible they are from your little ones!
This summer, we wanted to change that! 
Read below to see what our dedicated instructors had to say about The STEAM Project, summer camp, and our lovely campers. 
Richland Academy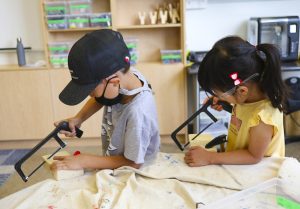 1. Introduce yourself and your program!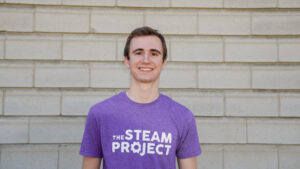 My name is Nicholas White, and I am a second-year mechanical engineer at McMaster University.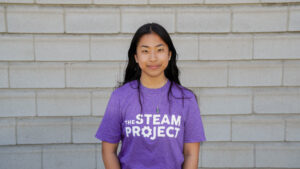 I'm Sandy Diep and I'm going into my third year of mechanical engineering at McMaster University.
2. Why do you enjoy working at The STEAM Project?
Nick: When I was a child, I was very interested in STEAM concepts, and I ended up not finding any program that was really for me so working here is really fulfilling my inner child, because I get to do a part of the camp that I wish I had when I was a kid. 
Sandy: I really enjoy introducing kids into the field of STEAM, especially because I didn't get that chance when I was a kid. In that sense, it's great to see kids interested in science, especially young women!
3. What project are you most excited for this session?
Nick: There's one project that's called 'Space Ducks Flight Test'. I designed it along with my co-worker Mitchell, and it's a glider that houses a rubber ducky. It's essentially a handheld glider they can throw, and it's built to fly a pretty good distance with the rubber duck inside– which the kids get to decorate!
The first time I made the glider, it didn't fly at all. It took 3…4…5, iterations before it finally ended up working! It was just a huge passion project for me because the dedication and time was extremely rewarding, and it's something I'm really excited for the kids to do.
Sandy: For this session, my favourite project that I've worked on is my Anglerfish Circuit! It was actually a collaborative project with my fellow instructor Patrick! I think he came up with the Anglerfish idea on his first day working here, so we went ahead with it later. 
I designed the laser cuts for the fish and from there we did some trial and error with different circuits to figure out what the best one would be for the kids. It's just a really easy but fun circuit that has a nice little light on the front and it teaches kids about simple circuits, and it looks really cool.
4. What advice do you have for campers completing projects and activities?
Nick: I would probably say asking for help is the biggest thing. That's why counsellors and instructors are here! That's our job– we're not a lego set, we're a camp!
These projects, they're hard. They're difficult, and they challenge kids in new ways. The reason why we're there is to help guide them and hopefully help them achieve success. 
Sandy: My advice would be that if something doesn't work out completely, that's okay! 
It'll still look really cool, and it's a lot of fun to build no matter what. So if your project ends up not working out, don't panic because it won't be the end of the world.
5. Do you have any advice for future instructors?
Nick: Definitely. I would say that if you're coming into this job I want you to remember the kids throughout the entire prototyping process. 
I want you to remember why you're doing this, and who you're doing this for. The reason is because it might get tiring modifying stuff and coming up with lesson plans and scheduling but if you focus on the kids and imagine them doing the activity and having the fun everything will go smoothly.
Sandy: Plan ahead of time, a lot earlier.
For a lot of our current projects, we planned them out thoroughly months ago, but there are still a lot of hiccups in the road! So I'd just say think it through more and make sure you have the right numbers for everything.
Richmond Hill Curling Club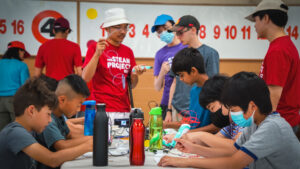 1. Introduce yourself and your program!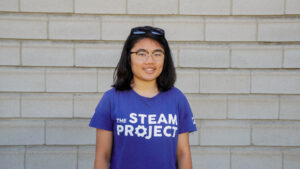 Hi, I'm Celine Kwan and I'm going into my second year of computer engineering at the University of Toronto.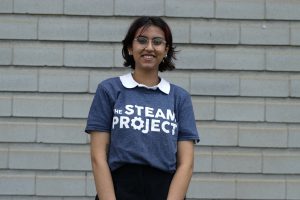 My name is Iqra Malik and I'm in my third year of Global Business and Digital Arts (GBDA) at the University of Waterloo. 
2. Why do you enjoy working at The STEAM Project?
Celine: I really enjoy working at The STEAM Project because I love working with kids, and I love making fun programs for them to enjoy! 
Iqra: I really enjoy it because there's never a moment where I'm sitting down and doing nothing. So I'm always on my feet doing things, involving myself with kids, counsellors and instructors, anyone who needs help, I'll be there to help. 
3. What is your favourite part about summer camp?
Celine: My favourite part is getting to know the kids and having fun with them through projects and activities! 
Iqra: Meeting all the kids, and seeing them leave with smiling faces being like 'I'm so proud of this project that I made today' and 'This is what I learned today! Want me to explain it to you?' and they'll more often than not, explain something to me that I didn't know before, so it's really cool. 
4. What project(s) are you most excited for this session?
Celine: My favourite project would probably be the Ornithopter. If you don't know what that is or never heard of it before, it's basically a glider but with flapping wings. 
It's a project that requires campers to assemble it together, but seeing someone assemble a project like this and have it work at the end is very exciting, and I'm sure the campers will love it. 
Iqra: I'm most excited for the Terrarium project, so imaginary landscapes. Campers get to decorate their own terrarium and learn to take care of succulents and things like that. 
Fletchers Fields
1. Introduce yourself and your program!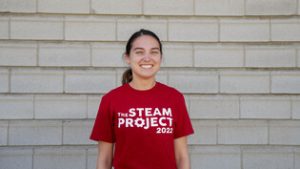 My name is Emily Zakoor and I just graduated from the University of Guelph for biomedical sciences and studio arts.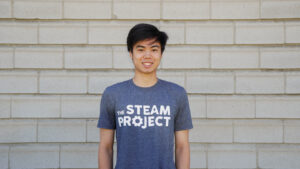 My name is Matthew Zhang and I'm going into my third year of mechanical engineering at McMaster.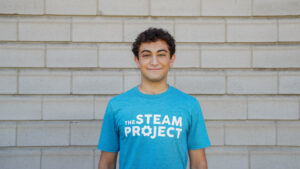 I'm Adrian Hanna and I'm going into my second year at McMaster University for mechanical engineering and management.
2. Why do you like working at The Steam Project? 
Emily: It's just the environment, it's so welcoming! When I first came here, I felt like we all connected really well– all the instructors and creative team, that is. It just felt like we were all immediate friends and I loved working together to put our creative skills together to come up with activities. 
I also like what The STEAM project stands for– and how it's not just STEM, but STEAM, and includes 'Arts' in their programs. I really like that, and I think it's great for kids to come here because they'll learn some fundamental skills in all areas of STEAM.
Matthew: I love working here because you get to teach a bunch of kids various things that go from kite making all the way to circuitry.
I also love how even in The STEAM Project at our Fletchers location, we get to do different sports (soccer, basketball, volleyball, etc.) and teach outdoor skills like tent building. 
Adrian: I really like working with all the kids and teaching them lots of new things, it's a really rewarding experience! I especially enjoy working with all the advanced technology we have here, and imparting that knowledge over to the kids. 
3. What is your favourite part of summer camp?
Emily: My favourite part is honestly just talking with the kids. Sitting in their groups with them and having one-on-one conversations with them is just fun and really getting to know them is great. 
Matthew: Obviously working with the kids, they give me a lot of energy to get myself through the day!
Adrian: Spirit days! Spirit days are definitely a lot of fun because everyone gets to show off their creativity, and we all end up just having a lot of fun together. 
4. What project are you most excited for this session?
Emily: I really enjoyed the Flying Rocket Kites project we had! The younger kids got to make these construction board kites and run around with them and have fun. We're lucky that we have such a good team here at Fletchers. It's only been a few days but we're already getting into our groove! 
Matthew: Personally, I'm really excited for the Solar Oven. I spent my blood, sweat and tears working on a prototype, and I'm excited because the kids are going to love it and the stuff you get to cook with it.  
The initial idea actually came from our assistant director and I picked it up from her! I thought it would be really cool to show the kids how you can use natural resources like solar energy to make edible food while being very cool to assemble. 
Adrian: My favourite project that I've done so far with the kids is definitely the Astronaut Helmet. The project itself went really smoothly and the kids really enjoyed it—not to mention how adorable they were with the helmets on! 
For most of the projects in general, we've been working on them for the last two months. For the astronaut helmet, the main part was just coming up with the laser-cut design and getting the pieces put together and organized for the kids.
5. What do you think about the Fletchers Fields location? Why is it a fit site for summer camp?
Emily: There's six huge rugby fields, which is awesome! There's no shortage of space outside, or inside really. 
Matthew: Oh, it's a great site for summer camp! It's huge, so you can do a lot of outdoor activities– like how I recently did a tent-building activity near the trees. You can't really do that at the other locations, so it's great being able to do that here. 
Adrian: It's a fantastic site for summer camp! There's a lot of indoor space, which is a nice area to cool off after being in the sun and work on the more technical projects we have here.
There's also a ton of open space; it makes a really good area to have all these sports going on so it gives a lot of diversity to the camp. 
***
*Responses have been edited for clarity and/or brevity*
Did you enjoy this blog? We'll be releasing MORE Instructor interviews bi-weekly so you can learn more about who's teaching your child, and what they have planned next! 
Do you have a question for our instructors or are curious about camper projects?
Let us know through social media! DM us on Instagram or Facebook to request topics you want to be covered, or questions you want us to ask our instructors!
We can't wait to spend another week with you!
–       The STEAM Project Family
If you have any questions or concerns, don't hesitate to contact us at 289-819-0178 or office@thesteamproject.ca.