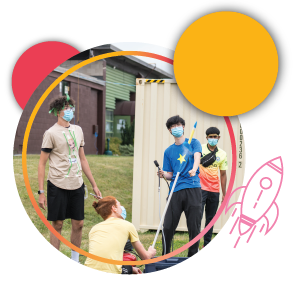 We had a BLAST kicking off summer 2021 with a mission to Mars, right here at the Richmond Hill Curling Club! Campers built and launched rockets, made space food, created circuits, learned about robotics, crash-landedon Mars (and escaped their spaceships) and built martian habitats. Additionally, it was amazing to see our first ever group of CITs develop leadership and hands-on skills, run campwide games and grow into a tight-knit, collaborative group.
SOPHOMORES
During session 1, the sophomores blew us away with their creativity. They designed spaceships and mars rovers, and had so much fun creating space-themed crafts and solar ovens! The sophomores love learning about space, and it was amazing to see how much they already knew. They were up to the task of learning about the planets, morse code, telescopes and constellations. They also had the opportunity to integrate robots into their martian habitats with MBots and block coding!
JUNIORS
The juniors rose to the challenge of soldering, creating circuits, building mars rovers, programming micro:bits and 3D modelling. Their creativity really shone when they made their papier-mâché martian landforms, and it was amazing to see the variety of volcanoes, canyons, towers and futuristic buildings! Throughout their adventures across Mars, the juniors even created their own self-sustaining ecosystems, fitted with a web of organisms and other components, all in a tiny jar. Such contained environments helped the campers grasp concepts including how humans may one day live on the red planet.
SENIORS
The seniors started the session strong, creating obstacle courses and competing between cabins to navigate the courses with drones! They excelled with 3D printing and programming microcontrollers, and it was amazing to see how quickly they grasped micro:bits and integrated them into the martian habitats. In addition to soldering, building greenhouses and creating electric Mars rovers, the seniors bonded over design challenges and team-building exercises during Arts and Active. They loved designing and building straw bridges, and competing between cabins in a cup stacking competition! Finally, we can't forget about our senior leaders, who finished off the session by designing and running an open activity for the sophomores!
Check Out Our Session One Highlights Video!