We've Been Looking For You
Check out our current openings
The STEAM Project is happy to announce the addition of a Soccer Camp to its Summer Camp Offerings. Having directors that are Science and Physical Education teachers, it was a natural fit to include a camp that focuses on sport and also combines STEM education.  Our Soccer program is supervised by Lewis Fried, a well-known and well-qualified Soccer Coach who also happens to be a teacher.
Our Co-Ed Soccer Camp promotes a safe and healthy environment for kids who enjoy soccer and for kids who want to step their game up. Experienced coaches will help them improve their abilities while enjoying their time with teammates and while completing cool STEM projects in between soccer lessons and games.
Players train with professional soccer coaches in ball mastery, specific step-by-step skill training, and dynamic games and drills within smaller groups. Students gain confidence as they progress through the steps and levels. Fitness and leadership development is incorporated into all the different activities. As our levels are tailored to beginners and advanced and our camp is perfect for any skill level. 
COVID-19 Precautions: No 1v1 competition, no gameplay that may result in close contact and a distance of 6 feet will be maintained at all times. We are dedicated to following all Ontario Soccer Protocols in return to play and the guidelines set by the government of Ontario and Canada.
FAQ: 
What kind of soccer activities will be approved due to COVID-19? 

Passing, shooting, dribbling and all other fun individual ball skill work are approved. No gameplay and close contact drills.  
What cleaning procedures will be in effect?

Cleaning of the balls and all equipment will be done after each change of activity during the day. 

Campers will be encouraged to regularly wash their hands. 
Lewis Fried
Head Coach
Lewis Fried has been involved in coaching and refereeing soccer in Ontario for 26 years. This includes coaching Boys and Girls High School, Competitive, and Academy teams and programs. His teams have won two Boys YRAA Tier 2 championships, the York University Indoor High School tournament, the Westview Invitational Indoor High School tournament, as well as CGSL league crowns. Amongst other licenses and certifications, Lewis holds the Canada Soccer "C" license and United States Youth Soccer National Youth License. He is currently completing the Canada Soccer Childrens License. Lewis is a strong proponent of the Canada Soccer "4 Corners" approach and the GAG coaching methodology. He is also an Ontario Soccer Referee, Referee Instructor, Assessor, and Mentor, as well as an OPDL Referee Mentor. Lewis has been a teacher, department head, and instructional leader at universities, community colleges, and high schools in the United States and in York Region for 39 years and blends this background in pedagogy and educational leadership with his soccer coaching experiences.
Camp runs from 9:00 a.m. to 4:00 p.m. each day.
Age: Currently in JK – Gr. 2
Divisions: Recreational and Competitive
Cost: Full Day $379/Session
General about our Soccer Program:
The STEAM Soccer Camp offers fun-filled, engaging soccer and physical activities for children of all skill levels. Our goal is to improve your child's soccer skills, to nurture your child's enjoyment of the "beautiful game," as well as to develop their general co-ordination and motor skills. This will be accomplished by providing a fun-filled, healthy, and positive playing and learning environment.
The typical day:
The day will consist of soccer-based activities centred on Canada Soccer's 4 Corner Model: Technical/Tactical, Physical, Psychological/Mental, Social/Emotional. The professional, trained coaching staff will use soccer exercises, activities, and games to develop your child's confidence and competence. We will provide your child with positive, age-appropriate activities and challenges that will allow them success through physical and social-emotional accomplishments. And along the way, they will learn about being a good friend and teammate.
Session 1: July 5 – July 9
Session 2: July 12 – July 16
Session 3: July 19 – July 23
Session 4: July 26 – July 30
Session 5: Aug 3 – Aug 6
Session 6: Aug 9 – Aug 13
Session 7: Aug 16 – Aug 20
Session 8: Aug 23 – Aug 27
Meal Plan (Lunch + Morning and Afternoon Snack
STEM Activties
T-shirt
Fun and Caring Staff
TSP Soccer Camp at Richland Academy
11570 Yonge St.
Richmond Hill, ON L4E 3N7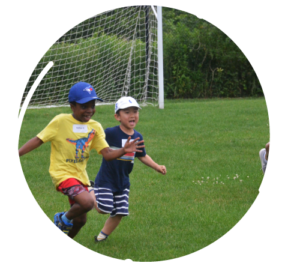 What it's like in our Makerspace